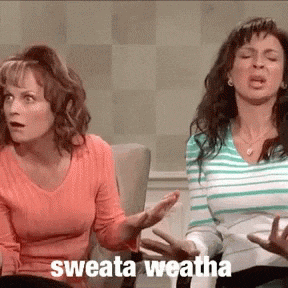 It's feeling decidedly wintry out there of late (the snow is falling in a picturesque way outside as I type this!), or as these ladies would put it, it's sweater weather! We hope you're staying warm, and that this week's edition gives you a few ideas to keep you going in this final third of the fall semester!
 Engaging Teaching
Scaffolding
Scaffolding student learning can be an important strategy to facilitate learning. You create temporary supports to facilitate learning, independence, and mastery. But, is there such a thing as too much scaffolding? In this blog post, Katie Martin explores the question "Are you over scaffolding?" and uses the guiding question "What decisions am I making for students (or teachers or principals…) that they could make for themselves?" As with many pedagogical choices, reflecting on the learning goal will help you choose how much scaffolding is the right amount for each learning experience. Talk with your colleagues and ask how they're scaffolding student learning and how it's working for them and for students.
 Learning Technology
D2L Thing of the Week: Discussions Tool
Have you ever run out of time just when a class discussion became interesting? Have you wondered how to involve the quiet learners, or those who need time to absorb the material before responding?
Consider creating a discussion forum and topic(s) using the Discussions Tool in D2L. Here are some instructions to help you get started.
Non-D2L Thing of the Week: YouTube Live
We love the idea of livestreaming a guest speaker, an event, or a debate. Why? Because learners who can't be there in person can be there virtually! They can view the live broadcast and comment to be part of the excitement. If you livestream through Youtube, and it can be stored there for future use, and the captioning is done for you. What could be better than that?
College Departments
Career Services
Here are two updates from our friends in Career Services:
InterviewStream
InterviewStream is a new online video resource for recording and reviewing mock interviews with access to industry specific interview questions. There are 7000 stock questions, or you can create your own!  Students video their own mock interviews at any time, any place, with access from any desktop computer, laptop, tablet or phone that has a webcam/camera function and a microphone.
Here are some ways InterviewStream can be used:
Students can prepare for upcoming interviews – increase confidence or seek feedback on their interview style

Faculty can create mock interview assignments for a class

Placement interviews
For more information, please see the Interviews tab on www.flemingcollegecareerservices.ca or connect with the Career Educator for your program.
Career & Employment Fair
We have changed the name of our annual job fair to Career & Employment Fair to shift the students' focus from obtaining a job that day to networking and making career connections for the future.  Along with the name change, we are expanding from 1 to 2 days at the Sutherland Campus. At the Frost Campus, we will have employers in the Field House as well as in the main building. The Career & Employment Fairs will take place on the following dates & times:
Sutherland Campus – Business, Justice, Trades, Technology
Wednesday, February 13, 10:00 a.m. – 2:00 p.m., Main Foyer
Sutherland Campus – Health & Wellness and Community Development
Thursday, February 14, 10:00 a.m. to 2:00 p.m., Main Foyer
Frost Campus – Environmental and Natural Resources Sciences
Thursday, February 7, 11:00 a.m. to 3:00 p.m., Main Building and Field House
Policies & Procedures
Academic Appeal Panels
Are you interested in becoming an Academic Appeal Panel member?
The Office of the VPA is looking to grow our Appeal Panel member list that will be used to help Schools form three-member Panels for student academic appeals.
Panel members will be required to:
Complete the Academic Appeal Panel training.

When available, review an Academic Appeal Package and participate in a one hour meeting where the student and faculty present their cases and Panel members deliberate and recommend a decision to the School Dean.
Faculty and staff interested in being added to our list of Academic Appeal Panel members can express their interest in an e-mail to Paula Walton or call ext. 1312.
For more information, please visit the Academic Appeals website.
Services for Students
Cultural Showcase: November 15 – Sutherland Campus  
Join International Student Services in celebrating the Fleming Cultural Showcase. Students from diverse cultures will show information about their country, artistic displays, and performances of song and dance.
The event will be in the Main Foyer at the Sutherland Campus, and the performance will start at 12:00 p.m.
Date: Thursday, November 15
Time: 10:00 a.m. to 2:00 p.m.
For more information: international@flemingcollege.ca
 Professional Development
Promoting Disagreement in Your Classroom
Fleming's own Matthew Ryan, Communications Professor at the Frost Campus, recently provided a new "patch" for the Open Faculty Patchbook, addressing how to successfully promote disagreement and debate in your classroom. He gives three tips for helping students effectively debate with each other, including this advice about being a bit vulnerable as the teacher: "It may be uncomfortable, but admitting one's own mistakes and struggles is a great way to set the tone in a classroom where debates will happen." Read the full piece and let us know what you think. How do you set your class up for healthy disagreement?
Interested in some other reads from teachers like you? Check out the Open Faculty Patchbook. Want to write a patch of your own? We'd be happy to help facilitate that, so let us know.
Information
Visit the LDS Team website, give us a call at extension 1216, follow us on Twitter @FlemingLDS, or send us an email: LDSTeam@flemingcollege.ca. We would love to hear from you!