We've made it to Week 10 — double digits! This week's edition of The Teaching Hub contains information about workshops that can be delivered upon request by International Student Services, encouraging academic integrity online, and other  internet-related things.
 Engaging Teaching
International Student Services Workshops for Faculty & Support Staff
International Student Services is offering training programs to help Fleming faculty & support staff to build cultural competency and UDL/inclusive classroom management skills.
For more information about scheduling a session for your department, email international@flemingcollege.ca or speak with Tracey McConnery, Manager of English Language Programs and International Student Services at ext. 1044.
Available Workshops:
The International Student Experience
Join International Student Services for a relaxed face-to-face discussion with a panel of diverse international students. Learn about their experiences, starting from when they first heard about Fleming back home to their greatest challenges living and studying in Canada. Students from India, Vietnam, China and Nigeria will talk about their cultures and how the education system works in their home countries. One hour panel presentation, followed by Q&A. Open to all employees.
Presented by the International Student Services team
Cultural Competency for Educators
This 2-hour session is designed specifically for Fleming faculty and addresses the cultural diversity found in Fleming classrooms. Building cultural competence begins with increasing our awareness of our own cultural values through self-reflection. Then building on Universal Design for Learning principles, faculty will learn how to remove barriers and create inclusive classrooms where diverse students can be successful. This session includes concrete classroom management content and case study discussion of common challenges.
Presented by Debbie Harrison, Amanda Gray, and guest faculty members
Teaching English Language Learners (ELL)
English Language Learners face a unique set of obstacles when it comes to studying in a Canadian post-secondary learning environment. We will begin by understanding these challenges and then look at some strategies for maximizing their learning outcomes. You will receive tips on areas such as classroom management, content delivery, and assessment, which will enable you to support your English Language Learners throughout the learning process (1 hour).
Presented by Tracey McConnery
Academic Integrity and the International Student
We provide a short overview of the new Academic Integrity policy, followed by a scenario-based learning activity developed to teach new international students about plagiarism and its consequences in the Canadian education system (1.5 hours).
Presented by Amanda Gray and an academic representative
 Learning Technology
D2L Thing of the Week: Assessments & Academic Integrity
This great resource from the Centre for Teaching Excellence at the University of Waterloo applies to some of D2L's assessment tools, including online quizzes, discussions and the assignment Dropbox, and contains advice from instructional designers and web developers. Check it out and let us know if you have any tips to add: Encouraging Academic Integrity Online

Non-D2L Thing of the Week: Fleming WordPress multisite
Fleming has its own installation of WordPress (website, blogging, and portfolio platform) that we will be introducing to the college community shortly.
First-year Communications courses have been using WordPress as their blogging platform for the past 18 months, and Fleming has committed to supporting our own hosted WordPress solution to support students in Communications and beyond. We will feature more information about Fleming WordPress very soon, so stay tuned to The Hub!
College Departments
IT Service Desk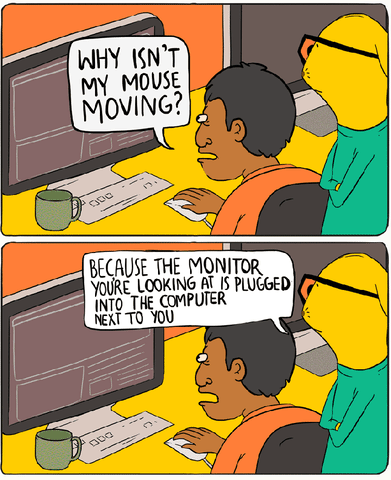 Can't get your laptop to connect to the college wifi? Is your office desktop giving you trouble? No question is too small or too large for the highly capable staff at the IT Service Desk!
The Service Desk is available to help all staff and students with their IT needs.  Walk-up service is available at:
Frost Campus – FR340
Sutherland Campus – C2 102
You can also easily reach them by sending your question or problem to itsupport@flemingcollege.ca.
Policies & Procedures
Appropriate Use Policy
Did you know that everyone who has a Fleming College IT Network user account (whether they are students or staff), must follow the Appropriate Use Policy? This policy outlines the underlying principles and rules that govern the use of Fleming College's Information and Communication Technology (ICT).
Fleming is committed to ensuring a working and learning environment in which all ICT users have the responsibility to respect the physical and emotional well-being, and the sense of personal worth and dignity of others in the college community, as well as promoting the responsible and ethical use of college resources.
You can learn more about this policy here.
Services for Students
Student Spaces (Sutherland)
This message was originally sent by Communications, but contains useful information to which you can refer your students, should questions arise during the back half of the semester.
Learning Commons (LRC) – A quiet study space
In order to ensure students have access to quiet study space, the LRC will now be a designated quiet study area. Students who need to do group work are encouraged to book rooms, use the foyer, or the cafeteria. Students who are interested in socializing are reminded to use the cafeteria and the Steele Centre.  As the weather improves, outdoor spaces will also become an option. WIFI is now available outside.
Other Spaces on Campus
Group Study Space:
Galleria (B3 – long bright hallway)

SAC Board Rooms (C1 – to book, please visit SAC)

Learning Commons (C2 — to book space in the LRC, please email

itsupport@flemingcollege.ca

or visit the IT Service Desk)

Library (C1 – to book space in the Library, visit the Library Circulation Desk)
For all other room bookings, please complete the Room Booking form.
Quiet Study Space: Learning Commons (C2) and Library (C1) – Meeting rooms and quiet study spaces available.
Computers: Learning Commons (C2), Library (C1), and (NEW) Lower Cafeteria (C1 – outside SAC)
Quiet reflective space: Prayer and Meditation Room (C1 – behind Tim Horton's)
 Professional Development
Course Design Spring Cohort
In May and June, the LDS Team will run a Course Design Cohort to support faculty doing course (re)design during the front half of the Spring semester. Our plan is to meet weekly on Mondays from 10:00 a.m. – 12:00 p.m. and assist faculty with the course design process, provide community support, and help make the most of development time.
Anyone can sign up for this cohort, and it will be available (one way or another) at all campuses. Please go to the LDS Team website to sign up: https://department.flemingcollege.ca/lds/professionallearning/course-design-cohort
If you have questions, please let us know.
Aboriginal Awareness Week

For more information on Aboriginal Awareness Week events, contact Ashley Safar.
REMINDER: Ontario Post-Secondary Course Resources Survey from eCampusOntario
@eCampusOntario wants to learn more about how educators select and use course resources, including #OER and #OpenTextbooks. Are you currently teaching a post-secondary course in Ontario? Consider taking our 10-15 minute Ontario Post-Secondary Course Resources Survey through March 31. Thank you!
Link to the Survey in English: http://bit.ly/2scq6qX
Link to the Survey in French: http://bit.ly/2o24jwS
If you have any questions about the research, please contact Jenni Hayman, Program Manager at jhayman@ecampusontario.ca
Information
Visit the LDS Team website, give us a call at extension 1216, follow us on Twitter @FlemingLDS, or send us an email: LDSTeam@flemingcollege.ca!